HIEFax
Your bridge to connecting everywhere!
The Connecting Healthcare® HIEFax service helps bridge the interoperability gap in healthcare. It is a first-to-market healthcare solution that combines DIRECT messaging and faxing in a single solution. HIEFax enables healthcare organizations to easily communicate Summary of Care messages to "non-connected" referral partners using DIRECT messaging with no change in user experience using their current EHR implementation.
Utilizing our HIEFax service, Connecting Healthcare® assists provider organizations in being able to communicate patient summary of care records to those providers in your community of referral and transition of care relationships, that have no ability to receive those electronically. This allows you to extend the benefits of being able to create and communicate summary of care information with ALL medical providers in your referral network.
HIEFax is a companion service to HIESuccess which which creates a connectivity roadmap of provider transitions of care and referral partners and relationships. HIESuccess documents your options for care coordination including leveraging the CMS third-party 'Fax Alternative*.'
HIEFax is as easy as 1..2..3..
---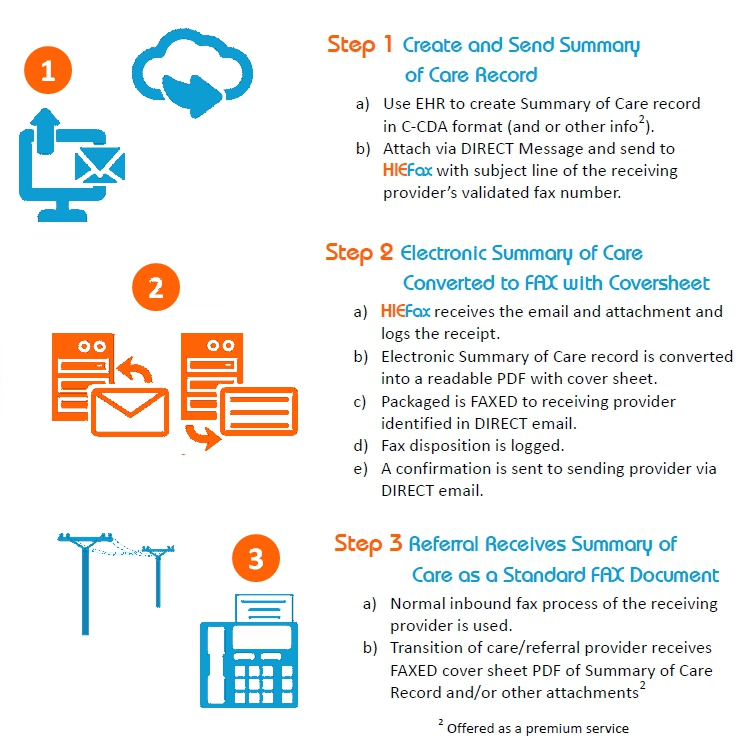 The Privacy of your patient data is assured
HIEFax is a pass-through service. Only logs of activity are maintained. This assures of privacy of patient data and ownership. After execution and final confirmation of the HIEFax process is sent to you, all emails and attachments are deleted.
Leverages changes in the CMS 2015-2017 Final Rule
HIEFax leverages the changes in the Medicare and Medicaid Programs; Electronic Health Record Incentive Program-Modifications to Meaningful Use in 2015 Through 2017. The final rule's provisions encompass 2015 through 2017 (Modified Stage 2) as well as Stage 3 in 2018 and beyond.
'Note: Faxing in general is not acceptable since it is not in C-CDA format. It is only acceptable when a third party is used to transmit the summary of care record and they must convert the transmission to fax because that is the only way the receiving provider can accept the transmission. Additionally, the conversion to fax by the third party must not be a default approach*.'

CMS guidance titled: "EHR Incentive Programs in 2015 through 2017 Health Information Exchange*
Page 4
| | |
| --- | --- |
| HIEFax is a proud collaboration with | |