Paving a HealthEHighway
DIRECT Messaging - The Swiss Army Knife of HIE
The DIRECT secure messaging standard created by the Office of the National Coordinator for Health Information Technology (ONC) represents a highly flexible, extensible and secure capability, with the potential to foundationally and transitionally connect all healthcare stakeholders.
The Connecting Healthcare presentation, 'Paving a HealthEHighway' discusses the opportunity to refocus DIRECT education, marketing and use cases. Gain important insights from the Connecting Healthcare 2016 Florida Ambulatory Health Information Exchange (HIE) Study and what was accomplished by the Florida-HIE during 2011-2013. Reengage critical stakeholders with actionable dialog and planning, leading to more efficient and effective DIRECT utilization with enhanced CMS leadership and its own use of DIRECT. Watch the video, download the presentation and join us in the DIRECT HIE movement!
Step 1. Watch the HealthEHighway Video Introduction
Step 2. Download the 'Paving a HealthEHighway' Presentation
---
HIESuccess
Relationship Management
Helping you connect the dots and more!
The FREE Connecting Healthcare® HIESuccess "DIY" Relationship Managements tools assists healthcare providers in evaluating their readiness and ability to achieve health information exchange (HIE). This includes organizing the identification of those within your referral and transition of care relationships that are ready to successfully engage in HIE for both meaningful use considerations and patient care coordination and outcomes.
Utilizing the Connecting Healthcare ® HIESuccess framework; you can establish a documented roadmap of your community connections and who among them are ready or not to exchange clinical data more efficiently. In addition to the basic benefits of a health information exchange, the secure electronic sharing of patient data also drives patient benefits for you and your referral partners. A core opportunity of HIESuccess is to assist in relationship management and the visibility needed to gain operational benefits. Download and use the HIESuccess Relationship Management Toolkit Components and share with your referral and transitions of care relationships!
HIESuccess in 4 Steps
---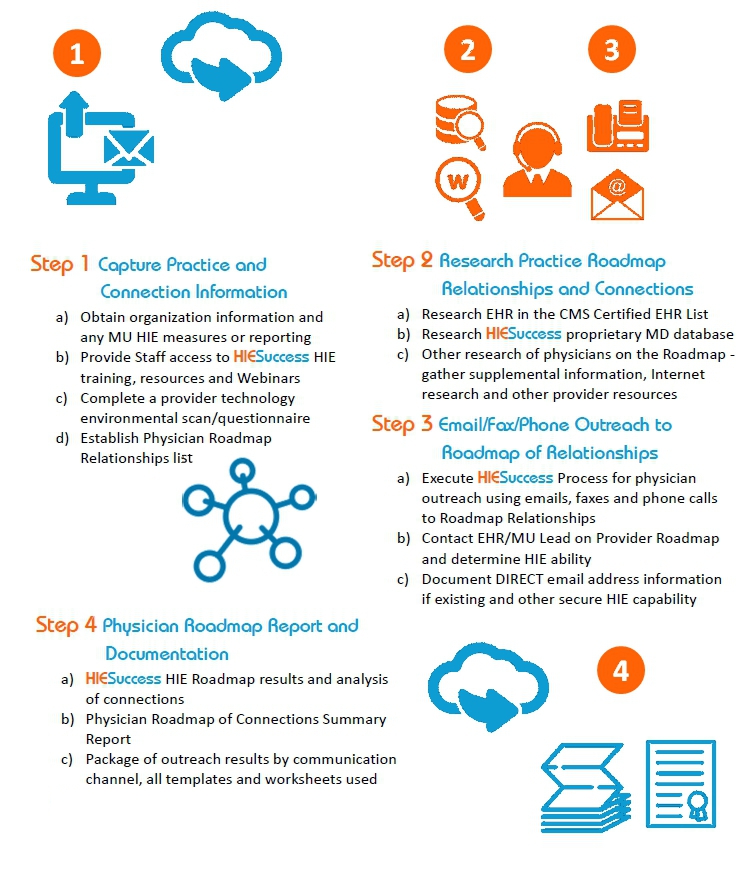 ---