HIPAASuccess
Comprehensive Compliance Made Simple
The Connecting Healthcare® HIPAASuccess services assist healthcare providers and their business associates with performing a HIPAA Risk Assessment. We also provide legal and technical consulting services reasonabily priced. HIPAA stands for the Health Insurance Portability and Accountability Act and is a U.S. federal law enacted in 1996. It was subsequently revised in 2009 with the ARRA/HITECH Act and again in 2013 with the Omnibus Rule. The goals of HIPAA are to protect health insurance coverage for workers and their families when they change or lose their jobs (Portability) and to protect health data integrity, confidentiality, and availability (accountability).
The Connecting Healthcare® HIPAASuccess Risk Assessment framework, helps your organization determine your level of compliance with the law. HIPAA compliance revolves around protecting the privacy and security of Protected Health Information (PHI) that organizations have access to. PHI is any patient information that can be connected to a specific individual's health condition.
HIPAASuccess and Beyond!
---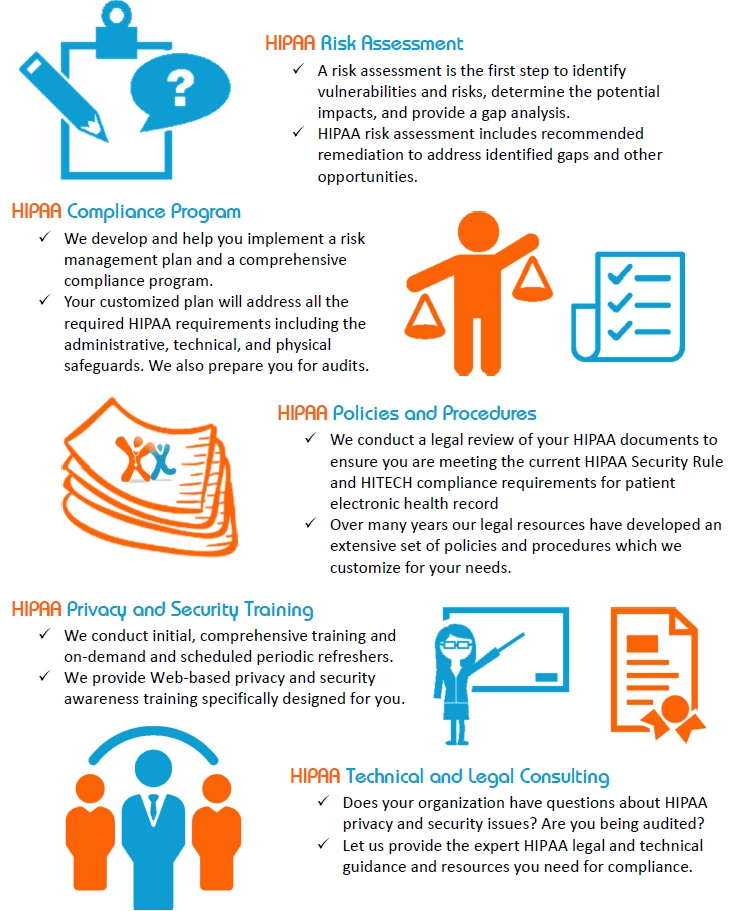 Straight from the Office of Civil Rights
Audits are really a critical compliance tool for us because they enable us to get out in front of potential industry problems before they result in a breach ... and they enable us to better tailor our guidance and our technical assistance to ensure that we're addressing the most common problems.

OCR has started verifying contact information for the "universe of potential audits" for phase two of the program, which will focus on both covered entities and business associates. The greatest portion of the audits will be desk audits, but OCR will be doing on-site audits as well.

Office of Civil Rights Director Jocelyn Samuels
Safeguarding Health Information: Building Assurance through HIPAA Security Conference, District of Columbia, September 2, 2015
---
| | |
| --- | --- |
| | HIPAA Risk Assessments for small and large practices. Are you part of a larger organization? We can create custom pricing just for you! Contact us today! |